3-day Yoga for Chronic Pain Retreat
with Prema (SYHET Student in training)
Tuesday, August 16 @ 2:00 pm

 - 

Thursday, August 18 @ 12:00 pm

EDT
Tuition: Accommodations only
Overcoming Persistent Pain: Healing the Body by Healing the Mind Pain seems to be conscious and cognitive. Persisting pain is related to changes in the physical body and neuro-plastic changes in the nervous system. The "danger button" is constantly activated. Pain changes us in many ways. There are equally many ways to change it back. Develop skills to keep your body, breath and mind calm. Put evidence-based pain self-care processes in your pain care toolkit. There is hope for finding more peace and ease.
You will receive a 90-minute one-on-one Yoga Health assessment by the instructor Prema (TTC 2012, ATTC 2016, SYHET-in-training since 2019) and a personalized plan of care based on the 5 Points of Yoga.
All workshops are free of charge and mentored by Swami Jnaneswariananda, senior teacher of Sivananda Institute of Health and Yoga. Costs are basic accomodations only.
Workshops
Acute and chronic pain conditions and management Breath Awareness and Breath Regulation – Pain is changeable Reset the protective systems Mind-Body awareness – Become a pro at feeling non-pain sensation Body Tension Regulation and Release – Stay at the edge of pain Awareness of Thoughts and Emotions – Interconnection Anti-inflammatory vegetarian diet
Daily Schedule
6am          Satsang (meditation, chanting, Yoga talk)
8am          Adapted Asana Class for Chronic Pain
10am        Brunch
12-1pm     Meeting with Teacher
2-330pm  Chronic Pain Workshop
4-5pm      Chronic Pain Meditation/Relaxation Class
6pm          Dinner
7:30          Satsang (meditation, chanting, Yoga talk)
Arrival & Departure Information
•   Arrival Day  – 2:00pm onwards
•   Departure day – 12:00pm (room checkout)
Planning to arrive and depart here by bus?  See more information.
Covid Policy
Please review our Covid Health & Safety Policy before registering.
Registration Information
Registration is required at least 3 day before the start of the program. We will arrange an online video call with all guests once you register to review our covid policy.
Helpful Links
Guest Information
Accommodations & Rates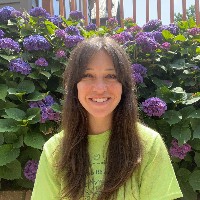 Prema (Renee Sharpless)
Prema is a certified Sivananda Yoga Teacher, graduating TTC in 2012 and the Advanced Yoga Teacher Training Course in 2016. Prema began the 800-hour Sivananda Yoga Health Educator Training (yoga therapy) program in 2019 and is dedicated to the health and well-being of her students. She enjoys sharing the Classical Yoga teachings to address stress and lifestyle issues, anxiety, and positive thinking.