4th of July Weekend: Vedic Knowledge
with Swami Sitaramananda, Srinivasan, Swami Jnaneswariananda, Swami Dharmananda, Jorge Alfano, Olga Mandodari, Dr. Ramkumar & Swami Adi Parashaktiananda
Friday, July 1 @ 2:00 pm

 - 

Monday, July 4 @ 12:00 pm

EDT

Cost: Accommodations + $150 Tuition
This year our annual Vedic Knowledge conference gathering will take place at the Yoga Ranch.  We are happy to have many internationally well-known Vedic teachers joining for the conference.  Join us to make use of all around Vedic wisdom to improve your quality of life.  Be inspired by Ayurveda, Jyotish, Vastu, Tantric rituals, Yoga, and Vedanta.
Program Schedule
Friday
2:00pm     Check-in
2:30pm      Workshop: 4 Paths of Yoga with Swami Jnaneswariananda
4:00pm      Hatha Yoga Class
6:00pm      Dinner
8:00pm      Satsang: Welcome on Vedic Knowledge with Swami Sitaramananda
10:30pm    Lights Out
Saturday
5:30am      Wake Up Bell
6:00am      Satsang: Meditation, Chanting, Bhagavad Gita with Srinivasan
8:00am      Hatha Yoga Class with Swami Adiparashakti
10:00am    Brunch
12:00 pm   Workshop: Teachings of the Upanishads with
2:00 pm     Workshop: Meditation & Positive Thinking with Swami Dharmananda
4:00pm      Hatha Yoga Class
6:00pm      Dinner
8:00pm      Satsang: Musical Concert with Jorge Alfano
10:30pm    Lights Out
Sunday
5:30am      Wake Up Bell
6:00am      Satsang: Meditation, Chanting, Ayurveda Online with Dr. Ramkumar
8:00am      Hatha Yoga Class with Swami Adiparashakti
10:00am    Brunch
12:00 pm   Workshop: Music with Jorge Alfano
2:00 pm     Workshop: 12 Areas of Karma with Swami Sitaramananda
4:00pm      Hatha Yoga Class
6:00pm      Dinner
8:00pm      Satsang: Teachings of Vaastu with Olga Mandodari
10:30pm    Lights Out
Monday
5:30am      Wake Up Bell
6:00am      Satsang: Meditation, Chanting, Guru Tradition with Swami Sitaramananda
8:00am      Hatha Yoga Class with Swami Adiparashakti
10:00am    Brunch
10:45am    Karma Yoga
12:00pm    Workshop: Vaastu with Olga Mandodari
* Satsang – 30-minute silent meditation, kirtan / chanting, spiritual lecture.
Daily activity schedule, and/or possible changes, will be announced at morning Satsang.
Arrival & Departure Information
•   Friday – 2:00pm
•   Monday – 12:00pm (room checkout, please stay of for workshop)
Planning to arrive and depart here by bus?  See more information.
Covid Policy
Please review our Covid Health & Safety Policy before registering.
Registration Information
Registration is required at least 3 day before the start of the program. We will arrange an online video call with all guests once you register to review our covid policy.
Teachers
Swami Sitaramananda is a senior acharya of the International Sivananda Yoga Vedanta Centers and is director of the Sivananda Ashram Vedanta Yoga Farm, California and the Sivananda Yoga Resort and Training Center, Vietnam.  She is acharya of China, Taiwan, and Japan as well. Swamiji is the organizer and teacher of the Sivananda Yoga Health Educator Training (SYHET) program, an 800-hour program on yoga therapy, accredited by the International Association of Yoga Therapists (IAYT).
Swami Sitaramananda is the author of "Essentials of Yoga Practice and Philosophy" (translated in Chinese, Japanese, Vietnamese, and Russian), "Positive Thinking Manual", "Karma Yoga Manual", "Meditation Manual", "Swamiji Said, a collection of teachings by Swami Vishnu" in His Own Words. She is responsible for the Vietnamese translation of "Completed Illustrated Book of Yoga" (CIBY) and "Meditation & Mantras" by Swami Vishnu. Many of her video & audio lectures on Yoga life, philosophy, and psychology as well as articles and webinars can be found on this website.
Swami Sita is an ardent supporter of the integration of the Vedic sciences such as Vastu, Jyotish, Ayurveda, Yoga and Vedanta. She is an international teacher of the Sivananda Yoga Teachers' Training Courses and Advanced Yoga teachers' Training courses, as well as Meditation and Vedanta & Silence Courses both in Sivananda Ashrams in Vietnam and in Grass Valley, CA.
Srinivasan
Director of the Sivananda Ashram Yoga Ranch and Acharya (senior teacher) in the International Sivananda Yoga Vedanta Centers organization, Srinivasan has dedicated his life to the propagation of the classical teachings of Yoga. An internationally recognized teacher of Raja Yoga and Hatha Yoga, Srinivasan served and studied with his guru and Yoga master, Swami Vishnudevananda, and now teaches around the world, continuing to carry the teachings as a direct disciple. As acharya, Srinivasan leads our team of teachers, conducts morning satsangs at the ashram, and leads workshops on various aspects of yoga philosophy and practice. He also leads the ashram's move toward Earth Care and sustainability, finding an effortless union between Permaculture and Yoga. He is a knowledgeable and compassionate teacher whose life mission is empowering all with the peace and wisdom of Yoga.
Jorge Alfano
Jorge's career started at the age of 13 when a singer ask him to play the bass on her tour. Since then, Jorge has never stopped being involved in music, not only performing but also teaching and producing. Even tough he started playing the bass, he has played many different instruments from around the world. His specialty are flutes and string instruments. His passion for world music took him to work with great musicians of all traditions and to study with great masters till today. He studied at the National Conservatory "Lopez Buchardo" (Argentina), Mannes School of Music (NY USA), Indian music with G.S. Sachdev and Aashish Khan, Japanese ZEN Shakuhachi music with R. Nyogetsu Reishin Seldin Sensei ( Ki Sui An dojo in N.Y.) and Kurahashi Yoshio Sensei ( Mujuan dojo in Kyoto).  www.jorgealfano.com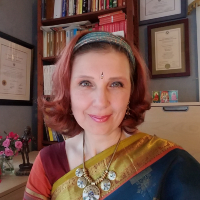 Olga Mandodari Sokolova
Olga Mandodari Sokolova, is a certified Vaastu Shastra Consultant. She studied at the International Institute of Mayonic Science & Technology in Chennai, India under Dr. V. Sthapati Ganapati, a world renowned traditional architect of Southern India who relies on Vaastu principles in his projects. Ms. Sokolova earned her MS degree in Civil Engineering from the Architectural University of St. Petersburg, Russia and Associate of Arts and Associates of Applied Science in Interior Design from the Montgomery College, Rockville MD, USA and received Ph.D. from The Open International University for Complementary Medicines, Colombo, Sri Lanka affiliated with The International Institute of Integral Human Sciences, Montreal, Canada.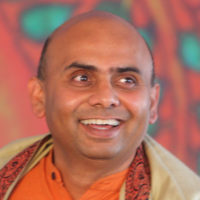 Dr. Ramkumar
Ramkumar is a student of Ayurveda and other traditional Indian knowledge systems. Over the last 2 decades, he has given talks and conducted workshops in the Americas, Africa, Europe, Australia and many parts of Asia, promoting health, happiness and contentment.  Ramkumar is a Founder-Director of Punarnava Ayurveda, an institution committed to "Authentic Ayurveda for Universal Well Being". Punarnava Ayurveda is currently engaged in the creation of vaidyagrama – an experimental green self-sustaining authentic Ayurveda healing community on the outskirts of Coimbatore in South India. (www.vaidyagrama.com). He is also a Director of the Arya Vaidya Pharmacy group of institutions based in Coimbatore in South India.
Swami Jnaneswariananda
Swami Jnaneswariananda joined the Sivananda Yoga Vedanta Centers in 1995 and has been director of centers and ashrams in Canada and Italy. She teaches Hatha Yoga, Meditation, Anatomy, and Vedanta at Teacher's Training Courses in North America, Italy and India. Swami Jnaneswariananda took vows of Sannyas in 2001. She is currently a senior teacher at the Yoga Farm in Grass Valley. She teaches with great enthusiasm and humor.
Swami Dharmananda
Swami Dharmananda is the assistant director and spiritual advisor to staff and students of the Sivananda Ashram Yoga Farm in Grass Valley, California, where he teaches yoga and meditation in the Teacher Training Course. He presents the classical teachings in a practical and accessible way to people of all backgrounds.
Swami Adi Parashaktiananda
Swami Adi Parashaktiananda is a Hatha Yoga teacher for more than 10 years. He has taught the Hatha yoga section in many International Sivananda Teachers Training Courses in many countries Vietnam, China, USA and has taught many Hatha Yoga intensive courses. He is a dedicated sadhak and pranayama practitioner.
Teachers are subject to change.
The Ranch's Daily Schedule
5:30am
Wake Up
6:00am
Satsang or Silent Walk
8:00am
Hatha Yoga Class
10:00am
Brunch
11:00am
Karma Yoga
12:00pm
Afternoon Program
& Free Time
4:00pm
Hatha Yoga Class
6:00pm
Dinner
8:00pm
Satsang
10:30pm
Lights Out
Satsang consists of a 30-minute silent meditation, followed by 30 minutes of spiritual chanting (kirtan), and finishes with 30 minutes of spiritual lecture.
Daily attendance at both Satsangs and Hatha Yoga Classes is encouraged for your health and well-being and to maintain the proper rhythm and atmosphere of the ashram community.